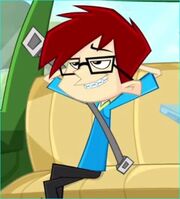 Ace McDougal is a twelve-year-old boy with super high-tech braces. He is the main character and protagonist in Get Ace.
Think Ace McDougal is just your average everyday nerdy school kid?... Think again. You see Ace has a totally awesome secret and it all began the day he got his braces. I know what you're thinking... braces - awesome? Don't braces just make a glasses wearing nerd like Ace even nerdier? Normally, except a mix-up on the way to the dentist saw Ace end up in the secret office of Professor Pringle, the world's leading inventor of spy gadgets. And when Ace unwittingly said the secret codeword, the Professor fitted him with a gleaming set of new braces. From that moment on Ace has been running teeth-first into the path of danger, trying to keep the braces out of Ned and Hilda's evil hand clutches. But there no way he's ever giving them up - he's having way too much fun!
Ad blocker interference detected!
Wikia is a free-to-use site that makes money from advertising. We have a modified experience for viewers using ad blockers

Wikia is not accessible if you've made further modifications. Remove the custom ad blocker rule(s) and the page will load as expected.