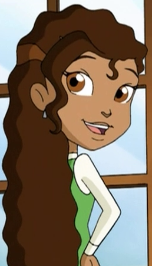 Alma Rodriguez is 12 years old and comes from a tight knit Mexican American family. Alma's the best jumper at Horseland. She loves to read. When Alma was younger her grandpa gave her a medallion of St. Martin of Tours while her family was still living in Mexico. When Alma was older her family eventually moved to the United States. Alma's dad is the foreman at Horseland.
Appearance
Alma has dark skin, long brown hair, and brown eyes. Her main outfit is a white long sleeve shirt under a green vest. She also wears beige pants and black boots. Alma's dad taught her how to ride when she was little.
Ad blocker interference detected!
Wikia is a free-to-use site that makes money from advertising. We have a modified experience for viewers using ad blockers

Wikia is not accessible if you've made further modifications. Remove the custom ad blocker rule(s) and the page will load as expected.