This character has been used under the following names below. Navigate using the arrows or by clicking on a name listed on the navigation bar to jump to a specific character name you want to read.
Other characters for {{{Character name}}} | None →

{{{Characters}}}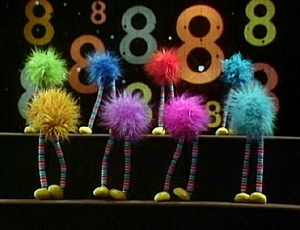 Balls of Fur are roly-poly, fuzzy creatures with long, thin legs typically covered in striped socks. Usually appearing in sets of eight, these silent dancers come in a wide variety of colors and are known for their agility. Described as being as bushy as a lion's mane, and as curvy as a drop of rain, they have a soul for rock n' roll. Most famously, they were the subject of Little Chrissy's song "Eight Balls of Fur."
No relation, if any, is known to the Muppaphones, a similar species of furball seen on The Muppet Show.
One furball was re-used as Wild Mike with hands, brown tint, shaggy hair and foot without socks for the Barnyard series.
Ad blocker interference detected!
Wikia is a free-to-use site that makes money from advertising. We have a modified experience for viewers using ad blockers

Wikia is not accessible if you've made further modifications. Remove the custom ad blocker rule(s) and the page will load as expected.