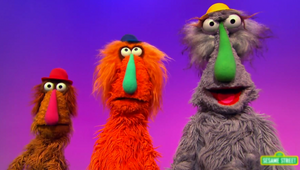 Bill, Phil and Sally are a trio of monsters who appear in a Sesame Street season 45 sketch.
The monsters are used as part of a game invented by Grover called "Where Did the Tallest Monster Go?" Bill is tall, Phil is taller and Sally is tallest. They also have different colored hats - Bill's is red, Phil's is blue and Sally's is yellow. The monsters then dip below the frame, with only their hats visible. Grover asks where the the tallest monster is. Each monster pops up, startling Grover until he passes out.
Their performers include David Rudman (Bill), Ryan Dillon (Phil) and Stephanie D'Abruzzo (Sally). The puppets are modified versions of the AM Monsters previously used as Pearl, Narf and Kermit the Forg, respectively.
Sizes
| Image | Name in group | Other names | Performer | Size |
| --- | --- | --- | --- | --- |
| | Bill | Pearl | David Rudman | Tall (short) |
| | Phil | Narf, Sorbet, Yoyo | Ryan Dillon | Taller (medium) |
| | Sally | Kermit the Forg | Stephanie D'Abruzzo | Tallest (tall) |
| | |
| --- | --- |
| | This page uses Creative Commons Licensed content from Muppet Wiki. The list of authors can be seen in the page revision history (view authors). As with Disney Wiki, the text of Muppet Wiki is available under the CC-by-SA Free Documentation License. |
Ad blocker interference detected!
Wikia is a free-to-use site that makes money from advertising. We have a modified experience for viewers using ad blockers

Wikia is not accessible if you've made further modifications. Remove the custom ad blocker rule(s) and the page will load as expected.