This character has been used under the following names below. Navigate using the arrows or by clicking on a name listed on the navigation bar to jump to a specific character name you want to read.
← Previous
|
Other characters for Bubbles Gum
Brenda • Bubbles Gum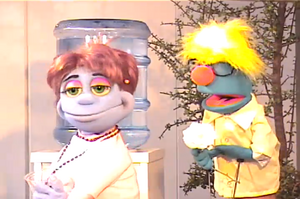 Brenda is a blue female puppet with yellow eyes. She appeared on some Puppetgreetings sketches with Bob who wants a kiss from her. She also appears in another sketch called Puppets Gone Wild where she lifts up her pink shirt to reveal her breast (which are censored). She is a recycled version of Bubbles Gum from The Adventures of Timmy the Tooth.
Sketches
Ad blocker interference detected!
Wikia is a free-to-use site that makes money from advertising. We have a modified experience for viewers using ad blockers

Wikia is not accessible if you've made further modifications. Remove the custom ad blocker rule(s) and the page will load as expected.