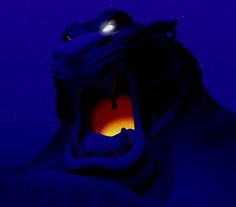 The Cave of Wonders (or the Tiger God) is both a character and location in Disney's Aladdin. The Cave of Wonders is a large cave filled with treasure, magical items and above all the lamp, formerly. It is a giant tiger head who's mouth is the entrance to the cave itself.
He is voiced by Frank Welker.
Quotes
"Who disturbs my slumber?"
"Know this. Only one may enter here. One whose worth lies far within. A diamond in the rough!"
"Seek thee out, the diamond in the rough."
"Proceed, touch nothing but the lamp."
"lnfidels! You have touched the forbidden treasure! Now you will never again see the light of day!"
Ad blocker interference detected!
Wikia is a free-to-use site that makes money from advertising. We have a modified experience for viewers using ad blockers

Wikia is not accessible if you've made further modifications. Remove the custom ad blocker rule(s) and the page will load as expected.