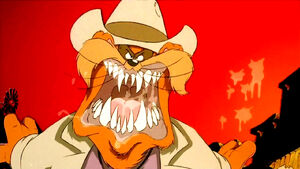 Character Impersonations is an intermediate term referring to characters who look like and pretend to be others by using certain costumes and/or acts. Most characters impersonate another character to look more unique with masks, eyes, noses and other accessories.
Two examples may include Tiger (who was taught how to be a dog in Fievel Goes West, but he is still a cat); the other may include Constantine who is the number 1 criminal and a Doppelgänger of Kermit.
Gallery
Ad blocker interference detected!
Wikia is a free-to-use site that makes money from advertising. We have a modified experience for viewers using ad blockers

Wikia is not accessible if you've made further modifications. Remove the custom ad blocker rule(s) and the page will load as expected.