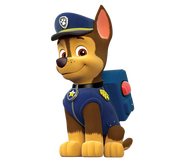 Chase is a main character in the Nickelodeon/TVOKids television series PAW Patrol.
Personality
Chase is a German Shepherd pup who is seen to be rather mature and serious on missions. He is a police/security dog. His main color is deep blue. He wears a police hat and rides a police-themed car that he uses for missions. In Season 2, he also has spy gear.
Trivia
Chase's name is likely a reference to a police chase.
In "Pups Save a Toof," it is revealed that Chase is afraid of the dentist.
Sources
Ad blocker interference detected!
Wikia is a free-to-use site that makes money from advertising. We have a modified experience for viewers using ad blockers

Wikia is not accessible if you've made further modifications. Remove the custom ad blocker rule(s) and the page will load as expected.