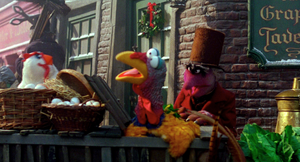 A frantically gobbling turkey appears in the opening scenes of The Muppet Christmas Carol, trying to escape from a frackle who is bound to sell him as a Christmas Turkey.
The puppet is an altered version of the Christmas Turkey from A Muppet Family Christmas. It later resurfaced with a bare body as Taylor the Turkey on Muppets Tonight, then again slightly altered as Mr. Warble on Mopatop's Shop, in the Muppets' "Bohemian Rhapsody" viral video and being tormented by The Swedish Chef in a deleted scene and various promos and appearances for 2011's The Muppets.
Ad blocker interference detected!
Wikia is a free-to-use site that makes money from advertising. We have a modified experience for viewers using ad blockers

Wikia is not accessible if you've made further modifications. Remove the custom ad blocker rule(s) and the page will load as expected.