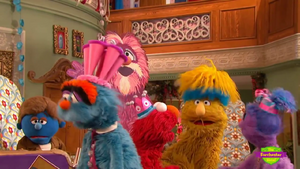 Colonel Mustard is a gold muscular monster who is one of the members of the Tea Time Monsters. The monster first appeared in the Sesame Street episode "The Rainbow Show". In that appearance, he has a younger age. The adult age version of this monster debuted in The Furchester Hotel, which was an adapted version of one of the AM Monsters used for certain productions for Sesame Street. The monster is helpful on solving certain puzzles and other stuff that they have problems with the suitcase being stuck in the elevator. When Elmo is delivering the toast to Harvey P. Dull, he tried to run him over. The monster is played by Warrick Brownlow-Pike in the episodes.
Friends
Gallery
Trivia
The monster's name is based off of the murder mystery game "Cluedo".
On the artwork for a group of colored monsters, the puppet was given the yellow nose and eyes that match the adult version that made it's debut on 2014.
Ad blocker interference detected!
Wikia is a free-to-use site that makes money from advertising. We have a modified experience for viewers using ad blockers

Wikia is not accessible if you've made further modifications. Remove the custom ad blocker rule(s) and the page will load as expected.