This character has been used under the following names below. Navigate using the arrows or by clicking on a name listed on the navigation bar to jump to a specific character name you want to read.
← Previous
|
Other characters for The Cavity Goon
The Cavity Goon • Cranky the Camera Man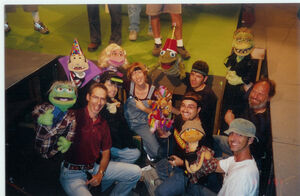 Cranky is a green decay that appeared on Greg the Bunny. He records a video when some or somethings going on.
Cranky was previously used as "The Cavity Goon" from Timmy the Tooth.