David Tanaka, played by Takaya Honda, made his first screen appearance on 21 September 2016.[33] The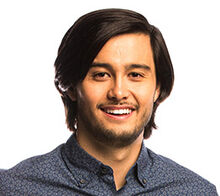 character and Honda's casting was announced on 22 August 2016, along with Tim Kano who plays David's twin brother Leo Tanaka.[34] Of his casting, Honda said, "I feel so privileged to have the opportunity to join the regular cast of Neighbours. To learn from such prominent and longstanding Australian talent is truly seeing my dreams fulfilled."[34] David and Leo come to Erinsborough in the hope of solving "a family mystery".[34] David is a doctor, who has "a social conscience".[34]
David and Leo visit their great grandmother at Erinsborough Hospital, and while there David befriends Paige Smith. Learning about the comatose Angelina Jackson, David gets in touch with his friend Dr. Adisa, convincing her to operate on Angelina as a favour to him, earning Paige's gratitude. Memorising Karl Kennedy's log-in details, David hacks into his computer, but is caught by Amy Williams. He admits he is trying to find his and Leo's father, who was forced out of their mother's life by her parents, and Karl agrees to help him, later finding information about a man named Bradley who could be David and Leo's father.
Ad blocker interference detected!
Wikia is a free-to-use site that makes money from advertising. We have a modified experience for viewers using ad blockers

Wikia is not accessible if you've made further modifications. Remove the custom ad blocker rule(s) and the page will load as expected.