Death is a recurring character appearing on the television series Supernatural.He is portrayed by Julian Richings.Death is not an outright villain, as he does not actively seek the end of the world or to spread unnecessary death. Instead, he is an upholder of the natural order and the natural end to life. He is only an antagonist due to being enslaved by Lucifer. Of all the supernatural beings in the show and for all his callousness, he is generally one of the more helpful and benign.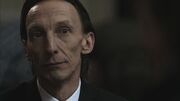 Ad blocker interference detected!
Wikia is a free-to-use site that makes money from advertising. We have a modified experience for viewers using ad blockers

Wikia is not accessible if you've made further modifications. Remove the custom ad blocker rule(s) and the page will load as expected.