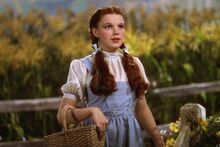 Dorothy Gale
is a fictional character and protagonist of many of the Oz novels by the American author L. Frank Baum. Her best friend is Oz's ruler 
Princess Ozma
. Dorothy first appears in Baum's classic children's novel
The Wonderful Wizard of Oz
 and reappears in most of its sequels. In addition, she is the main character in various adaptations, notably the classic 1939 movie adaptation of the book, 
The Wizard of Oz
. In later books, Oz steadily becomes more familiar to her than her homeland of Kansas. Indeed, Dorothy eventually goes to live in an apartment in the Emerald City, but only after her Aunt Em and Uncle Henry have settled in a farm house on its outskirts, unable to pay the mortgage on their house in Kansas. Dorothy's best friend Princess Ozma, officially makes her a princess in a later book.
Ad blocker interference detected!
Wikia is a free-to-use site that makes money from advertising. We have a modified experience for viewers using ad blockers

Wikia is not accessible if you've made further modifications. Remove the custom ad blocker rule(s) and the page will load as expected.