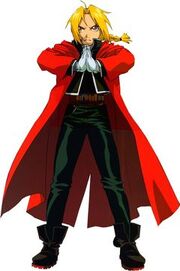 "No matter what powers you may have, some things just can't be done."~ Edward ElricEdward Elric the Fullmetal Alchemist, is the titular protagonist of the Fullmetal Alchemist series. After losing his right arm and left leg due to a failed Human Transmutation attempt, Ed became the youngest State Alchemist in history by achieving his certification at age twelve. Three years later, Ed has become fully engrossed in his search for the legendaryPhilosopher's Stone, an item with which he hopes to restore his younger brother Alphonse - whose whole body had been lost in the aftermath of that tragic debacle.He is voiced by Romi Park in the Japanese version of the anime and Vic Mignogna in the English version, the latter of whom also voices Junpei Iori.
Relationship
Anime
Manga
Toy/merchandise
Videogames
Full metal alchemist dual symphaty
Full metal alchemist brootherhood
Full metal alchemist Prince of the dawn
Full metal alchemist and broken angel
Full metal alchemist Trading card game
Full metal alchemist 2 curse of crimson elixir
Ad blocker interference detected!
Wikia is a free-to-use site that makes money from advertising. We have a modified experience for viewers using ad blockers

Wikia is not accessible if you've made further modifications. Remove the custom ad blocker rule(s) and the page will load as expected.