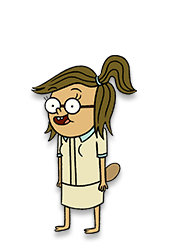 Eileen Roberts is a recurring character from the Cartoon Network series, Regular Show. She is a shy, intelligent mole. She works at the same Coffee Shop as Margaret does. Margaret is better known as her co-worker and one of her really good friends, likely her best friend. She has a secret crush on Rigby, but Rigby does not seem to care about her. She even tried to get Rigby jealous. She first debuted in Brain Eraser. Minty Lewis provides her voice, who is also the series' storyboarder.
Gallery
External links
Ad blocker interference detected!
Wikia is a free-to-use site that makes money from advertising. We have a modified experience for viewers using ad blockers

Wikia is not accessible if you've made further modifications. Remove the custom ad blocker rule(s) and the page will load as expected.