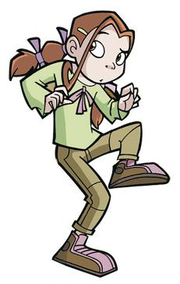 Elena Potato is one of the two main protagonists in comic/cartoon series, Monster Allergy. She moved in to Oldmill Village where she becomes the best friend of Monster Tamer, Ezekiel Zick. Initial a normal girl who can't see the world of monsters, she is eventually given the ability to see them, becoming a Monster Keeper in the process.
Ad blocker interference detected!
Wikia is a free-to-use site that makes money from advertising. We have a modified experience for viewers using ad blockers

Wikia is not accessible if you've made further modifications. Remove the custom ad blocker rule(s) and the page will load as expected.