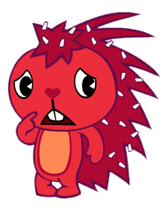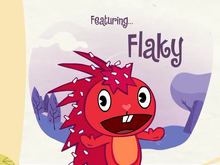 Flaky is one of the main characters in Happy Tree Friends.
Character Bio
A red porcupine (may confuse viewers that she is a hedgehog) whose quills are full of white flakes-like dandruff; thus the name. Despite this, Flaky is one of the most popular characters in the series and has the identifiable personality of being a very cautious and timid character. As evidenced in Snow Place to Go, she may also have necrophobia (fear of death/dying) and possibly a fear of sharks. In Party Animal, she is shown to have a peanut allergy.
Credit
Ad blocker interference detected!
Wikia is a free-to-use site that makes money from advertising. We have a modified experience for viewers using ad blockers

Wikia is not accessible if you've made further modifications. Remove the custom ad blocker rule(s) and the page will load as expected.