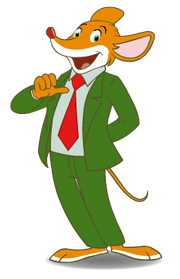 Geronimo Stilton
: The titular main hero of the Geronimo Stilton TV series. He is the older brother of Thea Stilton, the cousin of Trap Stilton, and also the maternal uncle of Benjamin Stilton. He is not only the publisher of the humble the Rodent's Gazette, but also the president of the Stilton Media Group. His love of knowledge is his main strength in the cartoon, as well as his sense of ethics and morals. He is still a bit of a klutz, and this will no doubt be the main source of humor for the series. It is revealed that he actually leads one of the most successful Publications Groups in the world. He is voiced by Brian Drummond. His brother-in-law was never seen or mentioned.
Ad blocker interference detected!
Wikia is a free-to-use site that makes money from advertising. We have a modified experience for viewers using ad blockers

Wikia is not accessible if you've made further modifications. Remove the custom ad blocker rule(s) and the page will load as expected.