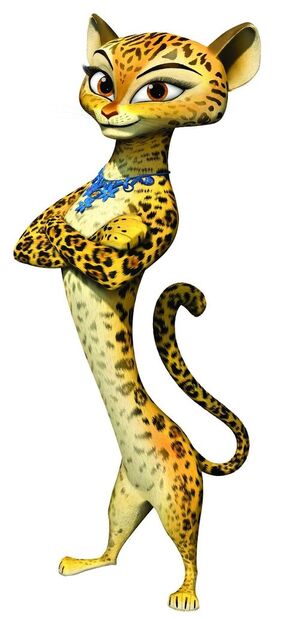 Gia (voiced by Jessica Chastain in an Italian accent) is a beautiful jaguar who is part of the traveling circus in Madagascar 3: Europe's Most Wanted. She wears a blue woven floral necklace, has gold eyes and has heart-shaped palms. She is Alex's love interest who is always on the lookout to discover something new and gets her chance when she convinces a reluctant Alex to teach her the trapeze – "Circus Americano" style. Her only role in the circus before Alex, Marty, Melman and Gloria came around was doing normal cat tricks (sitting, standing, rolling over), but when Alex teaches her trapeze, she performs with him and they move closer. Later on, she and the other circus animals save Alex and the gang from Dubois.
Gallery
Coming soon </gallery>
Ad blocker interference detected!
Wikia is a free-to-use site that makes money from advertising. We have a modified experience for viewers using ad blockers

Wikia is not accessible if you've made further modifications. Remove the custom ad blocker rule(s) and the page will load as expected.