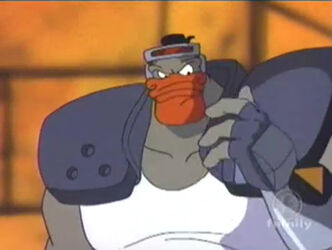 Grin is a super strong Goliath with a Zen-like philosophy. Unlike the stereotype of strong people, Grin is wise and does not let his anger cloud his judgment. He rarely uses weapons in battle, relying on his wisdom and strength instead. He has a strong sense of honor and can always be counted on for support. He is a good friend of Nosedive. During Grin's younger years, he had a horrible temper. He found enlightenment with the training from the grand hockey master, Tai Quack Do. His jersey number is 1.
Ad blocker interference detected!
Wikia is a free-to-use site that makes money from advertising. We have a modified experience for viewers using ad blockers

Wikia is not accessible if you've made further modifications. Remove the custom ad blocker rule(s) and the page will load as expected.