This character has been used under the following names below. Navigate using the arrows or by clicking on a name listed on the navigation bar to jump to a specific character name you want to read.
← Previous
|
Other characters for Humongous Chicken
Gundel Gackerburg • Humongous Chicken • Super Chicken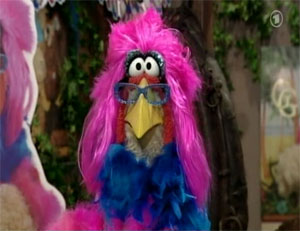 Gundel Gackerburg appeared in Sesamstrasse episode 2486.
She has been promoted as being the newest star in show business in various magazines. Wolle has won a competition were he gets a visit from this superstar. Even though he acts like being her biggest fan, he has never heard her sing; he has only read about her and seen pictures. He is so focused on meeting her that he dosn't want to play hide and seek with his best friend Pferd. However, as soon as he hears her sing, he quickly decides that he's no fan of such a bad singer.
She was recycled from Humongous Chicken that was previously used for Elmo in Grouchland.
Ad blocker interference detected!
Wikia is a free-to-use site that makes money from advertising. We have a modified experience for viewers using ad blockers

Wikia is not accessible if you've made further modifications. Remove the custom ad blocker rule(s) and the page will load as expected.