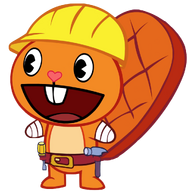 Handy is one of the main characters in Happy Tree Friends.
Character Bio
Handy is an orange beaver with unexplained amputated arms (thus his name). The stumps are covered withbandages. He wears a tool belt and a yellow worker's helmet (the typical dress of most construction workers). He has mostly been portrayed as an adult but a couple of times he has been portrayed as a child such as in Happy Trails pt. 1 when he was on a school bus with many other characters and in Remains to be Seen when he and some other characters were dressed up and trick or treating on Halloween. His dam mostly consists of tools that are operated by hand.
Credit
Ad blocker interference detected!
Wikia is a free-to-use site that makes money from advertising. We have a modified experience for viewers using ad blockers

Wikia is not accessible if you've made further modifications. Remove the custom ad blocker rule(s) and the page will load as expected.