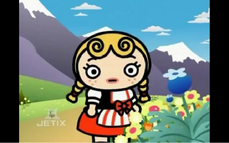 A Swiss girl who appears in the episode "Swiss Kiss' and falls in love with Garu at first sight. She is very to similar to Pucca in regard to her relationship with Garu, and is even stickier than her and tries to force Garu to marry her with the help of her two brothers and her father during her debut episode. However, before they married Pucca interrupts the wedding and takes her out the map of Switzerland.
Credit
Ad blocker interference detected!
Wikia is a free-to-use site that makes money from advertising. We have a modified experience for viewers using ad blockers

Wikia is not accessible if you've made further modifications. Remove the custom ad blocker rule(s) and the page will load as expected.