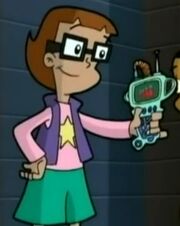 Inez Ramon is a 9-year-old girl and is voiced by Annick Obonsawin is one of the main protagonists of the series. She is the youngest out of the members of the Cybersquad, explaining her short height. In "The Wedding Scammer", and with has best friend Penny from ChalkZone. She is a girlfriend of Matt. Her favourite color is purple. She is born in January 7, 1993.
Appearance
Inez has light tan skin and shoulder length brown hair while it wears a long-sleeved pink t-shirt with a giant yellow star on it, a pair of black square glasses, a purple hooded vest, teal shorts and high blue boots.
Ad blocker interference detected!
Wikia is a free-to-use site that makes money from advertising. We have a modified experience for viewers using ad blockers

Wikia is not accessible if you've made further modifications. Remove the custom ad blocker rule(s) and the page will load as expected.