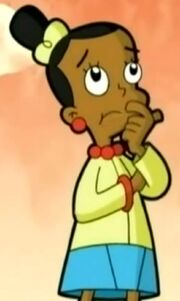 Jackie is a 11-year-old girl from Cyberchase, and is one of the main protagonists. She is friends with the rest of the Cybersquad and her sense of neatness and organization often helps them to solve their problems faster. She is of African-American descent. She seems to have a crush on Slider. Her favourite color is yellow. She is born in January 10, 1991.
Appearance
Jackie has light brown skin, a black hair in a bun, a yellow sweater, a sky blue skirt, red pearls around her neck, matching earrings, a red bracelet, lavender/white sneakers, and a yellow scrunchie that sometimes comes in handy, though when not in her hair, she sports an afro style.
Ad blocker interference detected!
Wikia is a free-to-use site that makes money from advertising. We have a modified experience for viewers using ad blockers

Wikia is not accessible if you've made further modifications. Remove the custom ad blocker rule(s) and the page will load as expected.