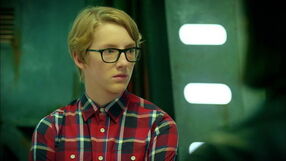 Jeremy Belpois (1992-?) is a member of Team Lyoko, and the brainiac always present. Jeremie has only gone to Lyoko (or attempted to) a few times because he is afraid of the scanners, despite the fact he operates them. However, he can overcome his fear if his friends and girlfriend are in danger. He is Aelita's love interest.
Gallery
Ad blocker interference detected!
Wikia is a free-to-use site that makes money from advertising. We have a modified experience for viewers using ad blockers

Wikia is not accessible if you've made further modifications. Remove the custom ad blocker rule(s) and the page will load as expected.