| | |
| --- | --- |
| | This article needs more links. Please improve this article by adding links that are relevant to the context within the existing article. (November 2017) |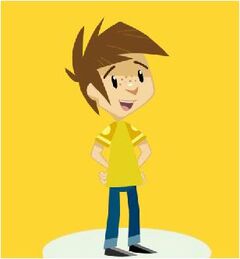 "A LOT OF PROBLEMS WILL FIX THEMSELVES IF YOU JUST LEAVE THEM ALONE. OR RUN AWAY FROM THEM."
JEVAN IS SWEET, KIND, AND ENTHUSIASTIC. HE IS THE SORT OF GOOD BOY THAT ALL MOTHERS LOVE.
HE'S A LITTLE SHY, A LITTLE HESITANT TO EXPRESS HIS OPINION, A LITTLE SLOW TO TAKE THE LEAD. HE'S A BIT CLUMSY AT SPORT, A TAD NERVOUS IN SOCIAL SITUATIONS, A LOT PETRIFIED IF HE'S EVER IN THE FULL SPOTLIGHT. THAT'S WHY HE LIKES TO OCCASIONALLY LOSE HIMSELF IN HIS IMAGINATION.
JEVAN FINDS MANY OF HIS DAYDREAMS COMING TRUE WHEN HAIRY BURSTS INTO THIS LIFE. THAT'S WHEN HE REALISES THAT MOST OF HIS DAYDREAMS ARE BEST LEFT AS DAYDREAMS. JEVAN'S IRRESISTIBLE CURIOSITY ALLOWS HIM TO ACCEPT HAIRY WITHOUT A BLINK. WHILE HAIRY IS OUT OF THIS WORLD AND VERY DIFFERENT TO HIM IN SO MANY WAYS, JEVAN QUICKLY KNOWS THAT HAIRY AND HIM ARE GOING TO BE GREAT FRIENDS.
FRIENDS HELP EACH OTHER AND JEVAN WILL DO ANYTHING HE CAN TO HELP HAIRY RETURN HOME TO FAIRYDOM. THEY MIGHT EVEN BE THINGS THAT JEVAN HAS NEVER THOUGHT OF DOING BEFORE: BREAKING A FEW RULES, SAYING SOME BAD WORDS, AND NOT BEING THE GOOD BOY ALL THE TIME. IN HELPING HAIRY, JEVAN WILL GAIN CONFIDENCE AND DETERMINATION THAT HE NEVER HAD BEFORE.