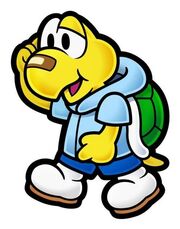 Koops is an Koopa in 2004 video game Paper Mario: The Thousand-Year Door. He is young koopa hailing from Petalburg, a small village east of Rougeport. At first, he is rather shy and timid, however he joins Mario on his quest to Hooktail Castle in order to impress his girlfriend, Koopie Koo.
As a partner, Koops can quickly retreat into his shell and then get kicked by Mario. During this phase, Koops will recover any items he touches and bring them back to Mario, making his ability much like the Boomerang from the Legend of Zelda series.
Koops is the second partner to join Mario on his quest.
Ad blocker interference detected!
Wikia is a free-to-use site that makes money from advertising. We have a modified experience for viewers using ad blockers

Wikia is not accessible if you've made further modifications. Remove the custom ad blocker rule(s) and the page will load as expected.