"Wake up! You don't want to miss the pain! Can you feel the needles as they burrow into your spine?"~ Low Kryten to ListerLow Kryten is one of the main antagonists from the Red Dwarf episode Demons and Angels. He was created by a Triplicator as a worse version of Kryten.He is portrayed by Robert Llewellyn.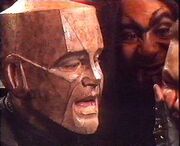 Ad blocker interference detected!
Wikia is a free-to-use site that makes money from advertising. We have a modified experience for viewers using ad blockers

Wikia is not accessible if you've made further modifications. Remove the custom ad blocker rule(s) and the page will load as expected.