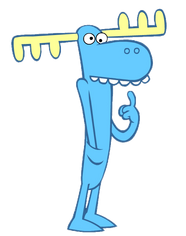 Lumpy is one of the main characters of Happy Tree Friends, and one of the four primary characters of the show, along with Cuddles, Giggles, and Toothy.
Character Bio
He is a light blue moose with low I.Q., bad teeth (although they are clear white), distorted eyes and mismatched antlers. He is known to be the big brother, or perhaps babysitter of many of the other characters. He usually means well but he's clumsy and extremely stupid. Furthermore, he screams like a girl. His usual catchphrase is "Mmm-hmm!" when he thinks he solved a problem or when he is satisfied.
Credit
Ad blocker interference detected!
Wikia is a free-to-use site that makes money from advertising. We have a modified experience for viewers using ad blockers

Wikia is not accessible if you've made further modifications. Remove the custom ad blocker rule(s) and the page will load as expected.