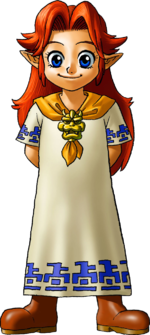 Malon (マロン Maron?) is a recurring character in the Legend of Zelda series. In a majority of her appearances, she and her father Talon are the owners of Lon Lon Ranch, where they raise cows, Cuccos, and horses. Malon also frequently appears in conjunction with the mare Epona as well as "Epona's Song".
Ad blocker interference detected!
Wikia is a free-to-use site that makes money from advertising. We have a modified experience for viewers using ad blockers

Wikia is not accessible if you've made further modifications. Remove the custom ad blocker rule(s) and the page will load as expected.