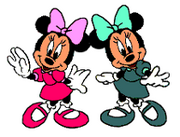 Millie and Melody Mouse
are the adorable and beautiful nieces of
Minnie Mouse
and the daughters of her sister, Mandie Mouse. Although they can be full of mischief despite their cuteness and beauty, they are sweet just like their aunt. They are the female counterparts of
Mickey Mouse
's nephews
Morty and Ferdie Fieldmouse
. The only known speculative film appearance of either of Minnie's nieces is in 1983's Mickey's Christmas Carol, where Mickey Mouse, as Bob Cratchit, has a daughter. In this film Morty & Ferdie are said to have played Cratchit's two sons (including one as Tiny Tim), and since Melody seems to be the most consistent name used for any niece attributed to Minnie, it is quite likely that it was Melody who played the role of Bob Crachit's daughter.
In 2011, the twins would costar in the Disney Junior series, Minnie's Bow-Toons. They first appeared in the episode "Trouble Times Two" where they visit Minnie and are shown to be crafty troublemakers.
Ad blocker interference detected!
Wikia is a free-to-use site that makes money from advertising. We have a modified experience for viewers using ad blockers

Wikia is not accessible if you've made further modifications. Remove the custom ad blocker rule(s) and the page will load as expected.