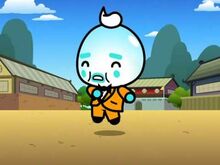 Mister Dishy is a genius when it comes to cleaning. He uses his power to clean ugly, dirty people and transform them into beautiful people. He helped Dada impress Ring Ring, but in the end, he was used by Pucca to clean the dishes. Dada tried to use Mister Dishy to make himself clean again, but Pucca spent all the soap cleaning the dishes. A genie in a bottle that cleans Dada to win the heart of Ring Ring. He made Dada handsome, and continually did his dirty work until he eventually disappeared when Pucca washed a lot of dishes.
Credit
Pucca Wiki
Ad blocker interference detected!
Wikia is a free-to-use site that makes money from advertising. We have a modified experience for viewers using ad blockers

Wikia is not accessible if you've made further modifications. Remove the custom ad blocker rule(s) and the page will load as expected.