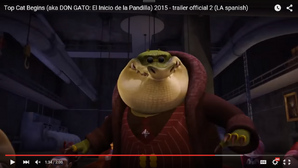 Mr Big is the main antagonist of 
Top Cat Begins
. He is the kingpin of New York City who was defeated TC and the gang.
Top Cat Begins
A feared crime boss alligator, Mr. Big has his hands in every criminal activity and takes a 99% fee from every criminal operating on his turf. Dibble has been trying for a long time to apprehend him, and when Top Cat and Benny steal Mr. Big's diamonds, they end up as important witnesses in the case - prompting Mr. Big to offer $50,000 reward for Top Cat (and 95 cents for Benny) -resulting in a huge manhunt. In the end, Top Cat uses a similar strategy by luring the people on the manhunt into Mr. Big's lair and offering $50.001 for HIS capture.
Gallery
Ad blocker interference detected!
Wikia is a free-to-use site that makes money from advertising. We have a modified experience for viewers using ad blockers

Wikia is not accessible if you've made further modifications. Remove the custom ad blocker rule(s) and the page will load as expected.