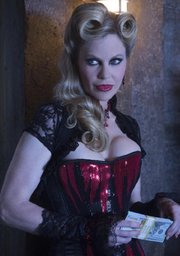 Pamela Swynford de Beaufort, more commonly known as Pam, is a major character on the HBO original series True Blood. The vampire co-owner of Fangtasia, a vampire nightclub in Shreveport, Louisiana, Pam is played by starring cast member Kristin Bauer van Straten and debuts in the episode "Escape from Dragon House" on the series' first season. A recurring character through the series' first and second seasons, Pam becomes a prominent character on the series' third, fourth, fifth, sixth and seventh seasons.
Ad blocker interference detected!
Wikia is a free-to-use site that makes money from advertising. We have a modified experience for viewers using ad blockers

Wikia is not accessible if you've made further modifications. Remove the custom ad blocker rule(s) and the page will load as expected.