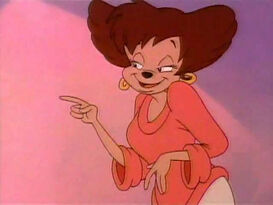 Peg Pete is is one of the main characters in Goof Troop. She is the wife of Pete and the mother of P.J. and Pistol.
Appearance and Personality
Peg is an unbearably beautiful, very attractive and insanely sexy cat-like woman with shoulder-length red hair in a tri-do, blue eyes, a black nose, child-bearing hips, an apple-bottom, an hourglass waist and wears a loose pink medium-sleeved sweater that partially shows her medium cleavage, light greyish-white skin-tight calf-length pants, crimson high-heeled pumps and gold hoop earrings. Despite her attractiveness, beauty and sexiness, she is a bit of a ditz, obnoxious to Pete and has a bit of a short temper.