Piper Willis, played by Mavournee Hazel, made her first screen appearance on 16 September 2015. The character has often been mentioned since the arrival of her on-screen family in May 2013, while Hazel's casting was announced on 18 August 2015. The actress relocated to Melbourne for filming and commented "It's a great feeling to be rewarded with the role of Piper after years of hard work, especially when I fell in love with the character after my first audition." Ahead of her first appearance, the character was featured in a series of webisodes titled Hey Piper, which see her talking to her family via online video calls.
Piper is the youngest daughter of Brad (Kip Gamblin) and Terese Willis (Rebekah Elmaloglou). She has been away studying in Canada. Hazel stated that she and the producers had a similar idea of how they wanted the character to be, and she was billed as being "feisty" and "quirky". In an interview with Carena Crawford from All About Soap, Hazel described Piper as "a technology-loving, free-thinking, liberated teenager". She also said she was mature and intelligent, but unlike her sister Imogen (Ariel Kaplan) she likes to discover things for herself. Piper struggled to "find her own light" growing up with Imogen and Josh (Harley Bonner), and before she went to Canada she did not have a strong identity. Hazel added that Piper does not want to be forced into taking side in her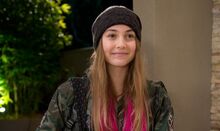 parent's separation.
Ad blocker interference detected!
Wikia is a free-to-use site that makes money from advertising. We have a modified experience for viewers using ad blockers

Wikia is not accessible if you've made further modifications. Remove the custom ad blocker rule(s) and the page will load as expected.