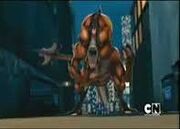 Plaztek is a villain that appeared in the Max Steel Reboot episode "Toxic Relationship". It is an evil creation that was the result of a fusion between an Evil Ultralink, Fishy (an artificial fish), and an orange slime. Like all the Evil Ultralinks that has appeared in the series, Plaztek wants to destroy the world.
Toy and merchandise
Personality
Apparence
Ad blocker interference detected!
Wikia is a free-to-use site that makes money from advertising. We have a modified experience for viewers using ad blockers

Wikia is not accessible if you've made further modifications. Remove the custom ad blocker rule(s) and the page will load as expected.