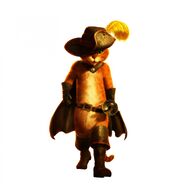 Puss in Boots is a tritagonist from the Shrek film series and the titular protagonist in Puss in Boots, voiced in English and both Spanish versions by Antonio Banderas. He is based loosely on the fairy tale character of the same name, and is the main "other fairy tale character" in the three sequels. He was introduced in Shrek 2 and speaks with a Spanish accent.
Gallery
Ad blocker interference detected!
Wikia is a free-to-use site that makes money from advertising. We have a modified experience for viewers using ad blockers

Wikia is not accessible if you've made further modifications. Remove the custom ad blocker rule(s) and the page will load as expected.