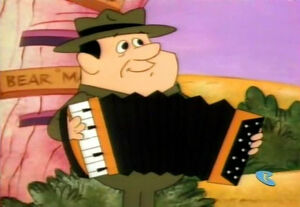 Ranger Roubideux is a forest ranger at Jellystone Park played by Peter Cullen.
Ranger Roubideux is Ranger Smith's assistant in The New Yogi Bear Show and Yogi and the Invasion of the Space Bears. Ranger Roubideux appears in TV Movie: Yogi and the Invasion of the Space Bears, he and Ranger Smith catches Yogi Bear, but it's only Yogi's girlfriend Cindy Bear, Back at Jellystone Roubideux takes Cindy to see Ranger Smith and Smith tell her he got Triplets of Yogi Bear and Boo Boo and he only telling her about where is the real Yogi Bear and Boo Boo.
Gallery
Ad blocker interference detected!
Wikia is a free-to-use site that makes money from advertising. We have a modified experience for viewers using ad blockers

Wikia is not accessible if you've made further modifications. Remove the custom ad blocker rule(s) and the page will load as expected.