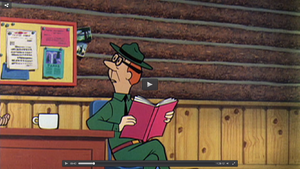 Ranger Tom is a forest ranger at Jellystone Park in The Yogi Bear Show and Hey There, It's Yogi Bear
The Yogi Bear Show
TBA
Hey There, It's Yogi Bear!
Ranger Tom reads the book what's wrong with Ranger Smith about Yogi to be wake up by now, but he hear on the phone the notices Yogi was the food inspector. then Tom tell Smith the phone calling in the San Diego Zoo. after They saw Yogi, Cindy and Boo Boo on the TV Ranger Smith decides to pick them up, tell he on the and he tell Ranger Tom to pack his things when his boss the Commissioner about this and he be looking a new job.
Ad blocker interference detected!
Wikia is a free-to-use site that makes money from advertising. We have a modified experience for viewers using ad blockers

Wikia is not accessible if you've made further modifications. Remove the custom ad blocker rule(s) and the page will load as expected.