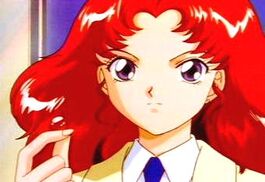 Scarlett O'Hara is the fourth Love Angel to appear in the series, Salvia is a loner with a violent and unforgiving streak. She wishes to destroy devils rather than purify them like the other girls. A pure angel, she assumes the name of Scarlett O'Hara while in the human world. Salvia still carries emotional wounds from the time she lost her best friend (Freesia) to a devil's attack. It takes some time for the other Love Angels to wear down her difficult exterior, though she eventually joins forces with them. In the second DX episode, she enjoys a loving (if doomed) relationship with a businessman named Clark Oasis. She becomes hypnotized by his powers and forces her to marry him.
Ad blocker interference detected!
Wikia is a free-to-use site that makes money from advertising. We have a modified experience for viewers using ad blockers

Wikia is not accessible if you've made further modifications. Remove the custom ad blocker rule(s) and the page will load as expected.