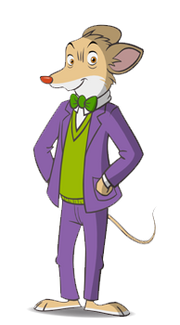 Simon Squealer
: Simon works for The Daily Rat as the personal assistant of Sally Ratmousen. Simon would do any dirty business for Sally, not because of dedication to the story, the company or to Sally. Simon protects his job at all costs, and is known to go to great lengths to dig up dirt on some famous mouse in New Mouse City. Voiced by Brian Drummond.
Ad blocker interference detected!
Wikia is a free-to-use site that makes money from advertising. We have a modified experience for viewers using ad blockers

Wikia is not accessible if you've made further modifications. Remove the custom ad blocker rule(s) and the page will load as expected.