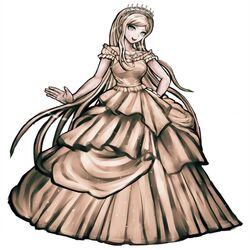 Sonia Nevermind (ソニア・ネヴァーマインド Sonia Nevāmaindo) is one of the characters featured in Danganronpa 2: Goodbye Despair. She has the title Ultimate Princess (超高校級の「王女」chō kōkō kyū no "ōjo").
She is the princess of Novoselic, which is a small European monarchy. At the end of the game, she and the other survivors managed to escape to the real world.
Gallery
Ad blocker interference detected!
Wikia is a free-to-use site that makes money from advertising. We have a modified experience for viewers using ad blockers

Wikia is not accessible if you've made further modifications. Remove the custom ad blocker rule(s) and the page will load as expected.