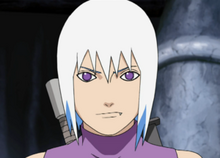 Suigetsu Hōzuki (鬼灯水月, Hōzuki Suigetsu) is from Kirigakure's Hōzuki Clan. Heralded as the Second Coming of the Demon (鬼人の再来, Kijin no Sairai), Suigetsu dreams of gathering all the swords of the Seven Ninja Swordsmen of the Mist. This dream was cut short when he was captured byOrochimaru, but by joining forces with Sasuke Uchiha he finds an opportunity to resume its pursuit.
Background
Suigetsu was born in Kirigakure and was reputed alongside his brother, Mangetsu, to be the incarnation of the demonZabuza Momochi. He and Mangetsu aspired to inherit the title of Seven Ninja Swordsmen of the Mist. This acted as their motivation to finish cruel missions day by day. While Mangetsu eventually became one of the seven, Suigetsu's motivation was shattered with the premature death of his brother, and he changed his ambition to "collecting all of the swords", in order to retrieve all seven original blades that have been passed down by the swordsmen, so that he could rebuild the group and become its leader.[3]
With the humiliation of being captured and experimented on by Orochimaru and Kabuto Yakushi, his ambition was put on hold. Through these experiments, Kabuto at least, was able to replicate Suigetsu's unique secret ability to liquefy himself at will.[4] At some point in the past, he had to fight with Jūgo.[5]
In the anime, about two years after Sasuke joined Orochimaru, the young Uchiha delivered a vial for research on Suigetsu. Upon seeing the young Uchiha, Suigetsu asked Sasuke to free him, who simply said he had to prove his strength. As the medical-nin came in to begin their tests, Suigutesu noticed one of them was in a daze (unaware he was being controlled by Sasuke's Sharingan). The medical-nin then opened Suigetsu's chamber, allowing him to break free from the base. Soon afterwards, he was pursued by Sasuke and Karin. Using his various water abilities, he was able to fend off the duo. Taking Sasuke's sword and delighting in its design, he attacked Karin, only to be caught off guard and subdued by her chakra chain, allowing Karin to take him back to the base.[6]
Ad blocker interference detected!
Wikia is a free-to-use site that makes money from advertising. We have a modified experience for viewers using ad blockers

Wikia is not accessible if you've made further modifications. Remove the custom ad blocker rule(s) and the page will load as expected.