Terese Willis is a fictional character from the Australian soap opera Neighbours, played by Rebekah Elmaloglou. The actress was cast in the role after attending an audition in late 2012. Before she began filming her first scenes in early February 2013, Elmaloglou had to ask the producers to change the pronunciation of her character's name. Elmaloglou's character and her family were created and introduced to Neighbours, as part of an ongoing overhaul of the show's cast and renewed focus on family units within the show. She made her first screen appearance during the episode broadcast on 14 May 2013.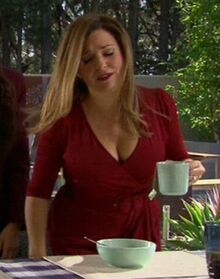 Terese is portrayed as being ambitious, organised, hard-working and a good mother. Elmaloglou said she admired Terese and that while they shared some similarities, but they did not have much in common. Terese was introduced as the manager of Lassiter's Hotel, which was owned by Paul Robinson (Stefan Dennis). Terese and Paul share a love/hate relationship, but despite the tension between them, they work well together. Terese's other storylines have often revolved around her marriage to Brad Willis (Kip Gamblin) and their family. Terese has struggled to accept that her husband has a daughter with his ex-girlfriend and her friend, Lauren Turner (Kate Kendall).
Ad blocker interference detected!
Wikia is a free-to-use site that makes money from advertising. We have a modified experience for viewers using ad blockers

Wikia is not accessible if you've made further modifications. Remove the custom ad blocker rule(s) and the page will load as expected.