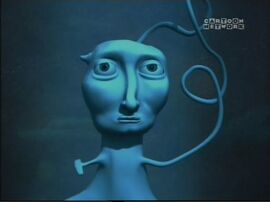 The Blue Creature, also known as Eustace's Trumpet or The Blue Demon, is an antagonist in Courage the Cowardly Dog. He only appeared in "Perfect," in which Courage had a nightmare where he sees a freakish and whispery blue, fetus-like entity telling him that he's not perfect, the same thing that the "all-perfect" old woman that no one but Courage can see, kept repeating over and over. Courage wakes up soon afterwards. This weird creature is actually the manifestation of Eustace's broken trumpet.
Ad blocker interference detected!
Wikia is a free-to-use site that makes money from advertising. We have a modified experience for viewers using ad blockers

Wikia is not accessible if you've made further modifications. Remove the custom ad blocker rule(s) and the page will load as expected.