This character has been used under the following names below. Navigate using the arrows or by clicking on a name listed on the navigation bar to jump to a specific character name you want to read.
← Previous
|
Other characters for Big Mean Carl
Big Mean Carl • Carla the Big Mean Mom • The Grox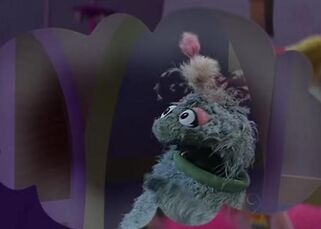 The Grox is a monster who eats rocks and other objects in Sarah's bedroom at night. The monster ate the socks which made her disappear with the drums that Sarah used to make this monster disappear from the bedroom.
The monster for the episode is a revised version of the recurring Muppet used for Big Mean Carl.
Ad blocker interference detected!
Wikia is a free-to-use site that makes money from advertising. We have a modified experience for viewers using ad blockers

Wikia is not accessible if you've made further modifications. Remove the custom ad blocker rule(s) and the page will load as expected.