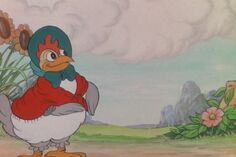 The Wise Little Hen is a chick mother from the 1934 short of the same name who wants her children to plant corn. She asks them for the help of Peter Pig and Donald Duck, who feign bellyache. Having managed with her chicks, she returns to see the pig and the duck help in the picking. They redo the blow of the disease. This time, the hen raises that they are liars. She contacts them again during the tasting, that they agree to volunteer. But the basket which she gives contains castor oil.
Ad blocker interference detected!
Wikia is a free-to-use site that makes money from advertising. We have a modified experience for viewers using ad blockers

Wikia is not accessible if you've made further modifications. Remove the custom ad blocker rule(s) and the page will load as expected.